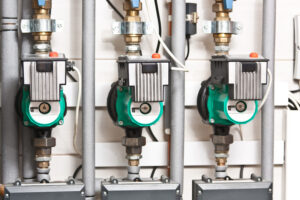 We perform maintenance and service on a wide variety of equipment year round. Our service technicians have our vehicle fleet stocked and ready to travel across Indiana to meet our customer's needs. Our most common and most important service is to open, clean, and close equipment for state inspections. This preventative maintenance exposes water quality problems, equipment stress, damaged or faulty parts and is a great time to correct minor problems. As you know when your boiler is running – everyone is happy, when it's down – you're spending extra dollars to get it going again.
Another important service for your boilers and pocketbook is the combustion efficiency setup. The more efficient your boiler runs the lower your fuel bill. When partnering with a company to set combustion on your equipment, it is essential to keep in mind that it is a very fine-tuned skill, almost an art form. A lot of technicians out there do a decent job reading combustion and can make adjustments. Where they fail is reading the flame pattern and fire in the boiler, comparing to the analyzer and then making balancing adjustments.
Below is a list of common services we perform. If you don't see what you are looking for or have a specific need, please contact us today for a free estimate.
Open, Clean, and Inspect
Annual Inspection Preparation
Combustion Efficiency Adjustment
Fuel-Air Ratio Control Systems
System Analysis
Water Softener Installation
Water Sampling & Treatment
Service Contracts
Troubleshooting
Flame Safeguards
Expansion Tanks
Pumps, Valves, Site Glass, Gaskets
Boiler Rental
Hydrostatic Test
Chemical Cleaning
Trap Testing & Replacement